Band Bios Gallery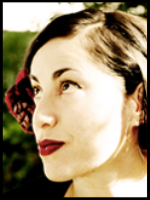 Karina Denike is a singer, songwriter and performer from the S.F. Bay Area. Her credits include performing, recording and composing for local groups, Stara Nova, Mr.Lonesome and The Bluebelles, Jezebelle, Dance Hall Crashers, Marc and The Casuals, 8 Legged Monster, Ralph Carney's Serious Jass Project, her own self titled group, and The Cottontails!
She has released over 20 albums on major and independent labels and has had her compositions on TV and film soundtracks.
Her performances include international appearances at The Montreaux Jazz festival, (Switzerland), The Reading Festival (UK) and tours to Europe, Hawaii, Japan, Australia, Mexico and more. National appearances include The Salt Lake City Winter Olympics, Yoshi's, The Palace of Fine Arts, Lilith Fair, The Fillmore, The Shoreline Amphitheatre, The House of Blues (L.A., Chicago, New Orleans), The Empire Plush room and more.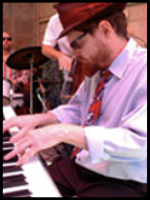 Michael McIntosh plays classical, jazz and rock piano in San Francisco. He has recorded with Ralph Carney's Serious Jass Project, Karina Denike, Mr. Lonesome and the Bluebelles, Jonathan Richman, Jolie Holland, the Blue Room Boys, among others. In addition to performing and recording music, Michael has written theater music for many San Francisco theater productions, including the opera "Watt," from a novel by Samuel Beckett. Michael studied composition with Gordon Crosse, Tony Lolov and Justin Connolly; classical piano with Betty Oberacker; jazz piano with Moacir Santos and Mark Levine; and classical guitar with Paul Binkley.
You can catch him playing with the Cottontails or playing solo at The Rite Spot, the coolest bar in San Francisco!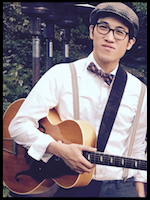 Vic Wong is a jazz guitarist and bassist, specializing in early jazz and swing. His playing is defined by tasteful, melodic leads and minimalist Freddie Green-style rhythm to keep the band swingin'. A student of all music, his influences also span from rock, ska, reggae, funk, soul, and hip-hop. One of Vic's biggest influences is Django Reinhardt, whose music he performs with his own Gypsy Jazz band Panique. Additionally, Vic has performed many bay area bands including Gaucho, Emily Anne's Delights, the Congress, Lord Loves a Working Man, Tin Cup Serenade, the Alcatraz Islanders, Project Pimento, and the Au Brothers Jazz Band.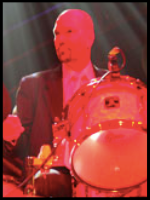 Randy Odell plays drums professionally with a variety of bands, jazz vocalists and singer/songwriters. He has backed headliners Klea Blackhurst, Sharon McNight, Denise Perrier, Jill Tracy and the legendary "Madame". As the drummer for Terese Genecco's show Drunk with Love, a Tribute to Frances Faye, Randy played Jazz at Lincoln Center in New York City, twice. In the summer of 2009, Randy was timpanist in an orchestra performing the opera "Hansel und Gretel", the primary event in Arosa, Switzerland's annual Musik Theater Festival.
He is co-creator of The Cottontails, as well as the acclaimed jazz/funk/electronica band Diggsville. Randy also plays in The Ralph Carney Serious Jass Project, the rocksteady reggae band The Impalers, and The GG Amos Band, a West Coast Blues band with whom he toured Europe in March and April of 2011. With roots in symphonic percussion and jazz, he enjoys exploring a wide range of musical styles.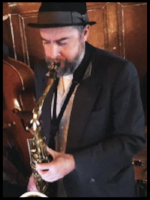 Tom Griesser is a saxophonist and a clarinetist who has been performing on the San Francisco music scene for 25 years. He first became interested in jazz from hearing his father's record collection, which included works by Benny Goodman and Duke Ellington. Tom studied clarinet with Richard Joiner, principal clarinetist of the Denver Symphony Orchestra, and later studied alto saxophone with the legendary Hal Stein.
Since the early 1990s Tom has been performing on tenor, alto and baritone saxophones and clarinet with many jazz bands, including St. Vitus Dance, Timmie Hesla Big Band, and the New Morty Show. Tom performed on sax and bass clarinet with the Marcus Shelby Orchestra, recording on four albums with that group. He was an original member of Brass Monkey Brass Band, and has performed at the Monterey Jazz Festival and the Hollywood Bowl with that group, opening for the Meters and the Neville Brothers. Tom also leads B3B4, a jazz organ quartet, and the Tom Griesser 3, a jazz trio.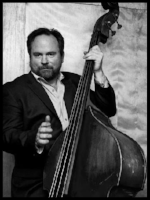 Joe Kyle Jr. was fortunate enough to have been drafted into musical service during the Great Swing Wars of early-1990s San Francisco, when entry-level gigs were plentiful and vintage clothes in his size were still available. His musical education began in the trenches and the barrooms and dance halls of the Greater Bay Area, and continues to this day.
Joe has become an in-demand performer and session player known throughout the land for his superb feel, musical agility, adaptability and propensity for slap bass and tragicomic asides. He might be the only bassist to have played with pianists Martin Denny, Al Kooper, AND Pinetop Perkins, although not with all on the same session, sadly.
Joe can frequently be seen and heard performing and recording with many Bay Area groups, including Michael Zisman's Americano Social Club, HowellDevine, Mitch Polzak's Royal Deuces, Koolerator, The Cottontails, and The Waybacks.